A classic traditional lemon cheesecake recipe with Meyer lemon syrup. This simple recipe is perfect for any occasion.
Traditional Meyer Lemon Cheesecake
I love cheesecake, but for a long time I was afraid to actually bake them. I always thought that there was some magic involved in making a cheesecake, so it wasn't until this baking blog that I made my first baked cheesecake in 2013. Since then, I've made quite a few cheesecakes and have loved every one. This lemon cheesecake recipe is another winner. It's simple, sweet, and tastes amazing.
While I was in Napa Valley, I spent a wonderful afternoon with Chef Alex at the Peju Winery for an interactive tasting with food and wine pairings. There was, of course, dessert and their dessert wine, Liana. The pairing was wonderful! I could drink a glass of Liana everynight. We also had a wonderful olive oil tasting at Round Pound where we got a collection of their Artisan  syrups – Meyer lemon, blood orange, and pomegranate.  Their Meyer lemon syrup was the perfect topping for my cheesecake. Put them together and you've got yourself a killer dessert!
Do you ever enjoy a dessert wine or an ice wine after dinner? They are just wonderfully sweet and a perfect way to satisfy your sweet tooth at the the end of the day. We all have to watch our waistlines now and then, so when I'm looking for something sweet for dessert, a small glass of the Late Harvest Orange Muscat dessert wine is just the right thing.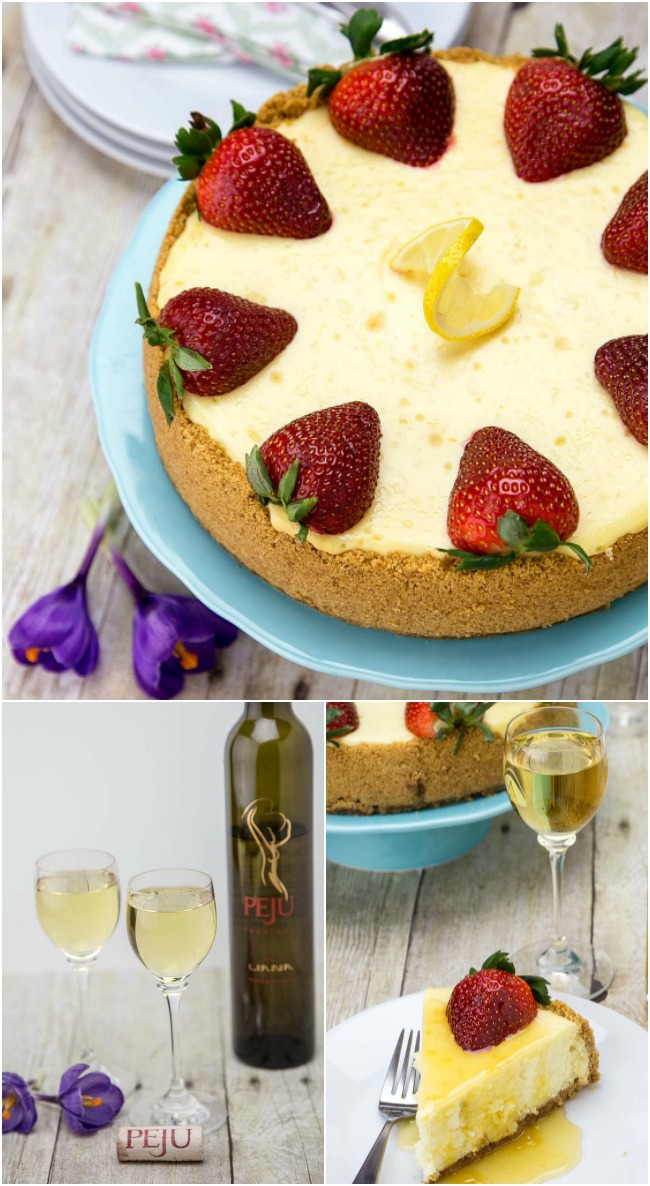 I've also loved the artisan syrups on my ice cream, in a mixed drink, and adding some to my daughter's 7-Up for a fun drink.
We had such a great time on our vacation to Napa Valley in February. I just wish we could go back more often and enjoy the amazing wine and food. It's a good thing that are members of the Peju wine club and get a few bottles every four months. I'm no longer feel like we are wasting a good bottle of wine when it's just dinner for two. I know that more good wine is coming and that we will never be short.
We also joined the club at Mumms and have five bottles of champagne that are ready to go anytime we want some.
Want to read more about our trip to Napa Valley, and Calistoga, CA? I've got blog posts all about them.
I hope that you give this cheesecake a try, it was so simple. If you aren't able to get your hands on the lemon syrup, you can make your own lemon curd, or lemon sauce to add instead. It's all going to be fantastic!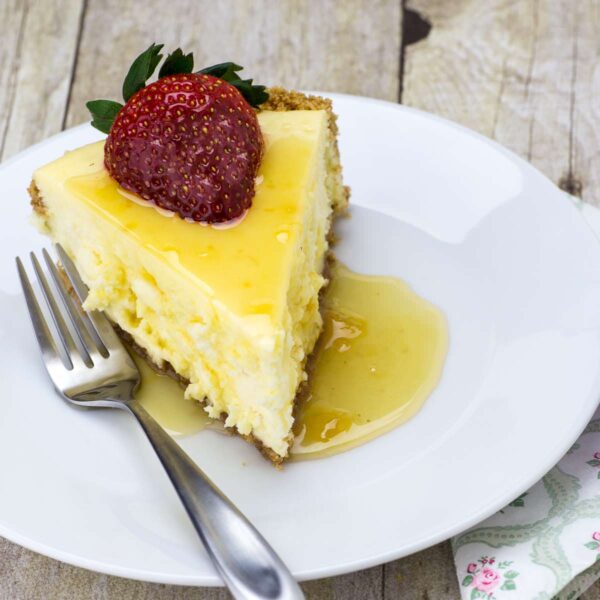 For more wonderful cheesecake recipes, check these out!