You will love these Chocolate Peppermint Marshmallow Cookies! They are perfect for the holidays! They're great if you have lots of family coming over!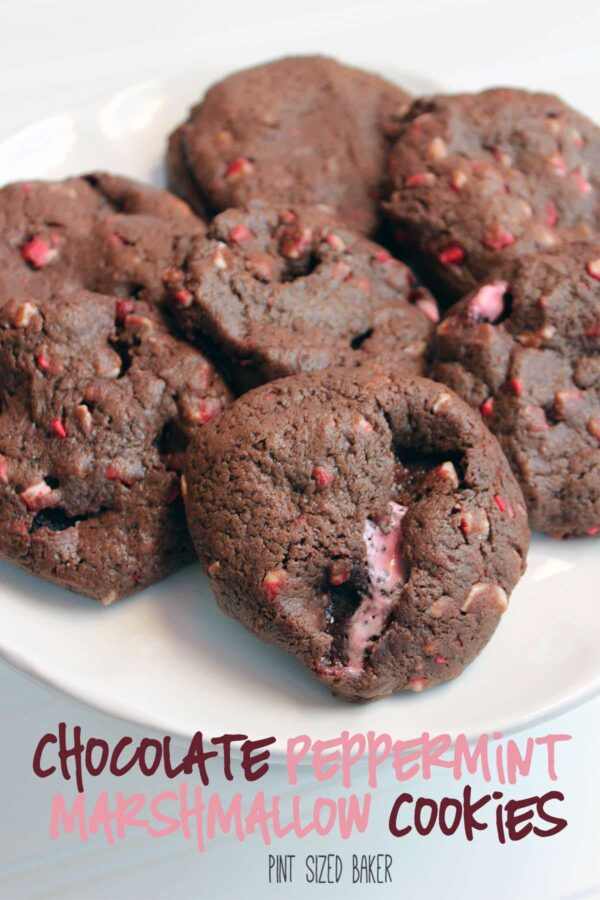 Ok… I finally got my Christmas cards in the mail today. I went with the great Costco card standby since I was completely out of time.
Today, my husband and I had to MOVE THE CHRISTMAS TREE from the front of the house to the rear of the house! It was no easy task. In the beginning of December, as I was moving the furniture around, our old cat decided that the cleared out corner was the new greatest location for a littler box. Only problem, the three boxes are nowhere near this location! After lots of tears, cleaning and many empty threats later, we gave up and moved the tree. Here's hoping that is all over.
Now, I deserve a cookie!
These Chocolate Cookies are stuffed with Peppermint yumminess!
It has Andes Peppermint Crunch pieces AND Peppermint Mini-Marshmallows.
WOW!
This recipe makes for chocolatey-pepperminty goodness!
I ended up eating most of these. (My weird-o hubby doesn't like marshmallows.)
Most of the marshmallows melted while baking. I guess I should have left them in the freezer longer than 15 minutes… Oh well.
You should pop them in the night before, just to be sure.
But the few that had the marshmallows still gooey in the middle were wonderful!
Chocolate Peppermint Marshmallow Cookies
Recipe Type: cookies
Author:
Prep time:
Cook time:
Total time:
Serves: 21
Ingredients
3 C Flour
2/3 C Unsweetened Cocoa Powder
1/2 tsp Baking Soda
1 C Brown Sugar
1 C (2 sticks) Salted Butter, softened
2 Large Eggs
2 tsp Vanilla Extract
1 Bag Andes Peppermint Candy Chips
8 oz. mini marshmallows, frozen
Instructions
Preheat oven to 350°F. Until you are to ready to assemble the cookies just prior to baking, keep the marshmallows in the freezer – otherwise they will thaw too rapidly.
In medium bowl combine flour, cocoa, and baking soda. Set aside.
Using an electric mixer, blend in butter with the granulated and brown sugar , scraping down the sides of the bowl. Add eggs and vanilla, and beat at medium speed until light and fluffy. Add the flour, cocoa, and baking soda and blend at low speed until combined. Batter will be very stiff. Fold in the Andes Peppermint Chips.
Using a 1 Tbls Cookie scoop, measure out one tablespoon of batter and flatten in the palm of your hand. Then place 4 marshmallows in the center of the dough disk and cover with another tablespoon of dough. Wrap the dough around the marshmallows, completely encasing them and forming a 2-inch-diameter dough ball.
Place balls on baking sheets lines with parchment or as silicon mat. Bake 15 minutes. Cool on pan 2 minutes, then transfer to a cool, flat surface.
[url href="undefined"][img src="https://pintsizedbaker.com/wp-content/uploads/2012/12/Chocolate-peppermint-Marshmallow-Cookies-583×900.jpg" width="583″ height="900″ class="aligncenter size-large" title="Chocolate peppermint Marshmallow Cookies" alt="You will love these Chocolate Peppermint Marshmallow Cookies! They are perfect for the holidays!"][/url]
I love you love Chocolate Cookies! Here's a few more that you might love!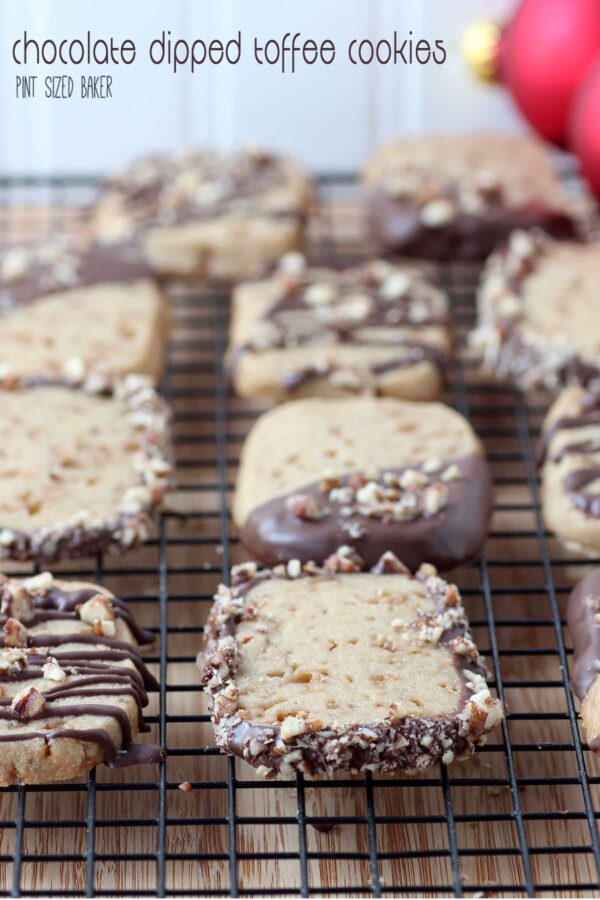 Chocolate Dipped Toffee Cookies