Bake this any day of the week because who doesn't want a giant chocolate chip skillet cookie loaded with M&M's on a random Wednesday night??
Giant Chocolate Chip Skillet Cookie
Get into the kids and get to baking with them! Everyone loves to bake chocolate chip cookies, but when you take all that yummy cookie dough and turn it into a giant cookie pie, then you have an amazing dessert! This Giant Chocolate Chip Skillet Cookie is also called a Pizookie or Pizza Cookie and it's a everything that you think it is.
I love serving this cookie pie for dessert. It's just so much easier than constantly switching out a cookie try in the oven every 10 minutes.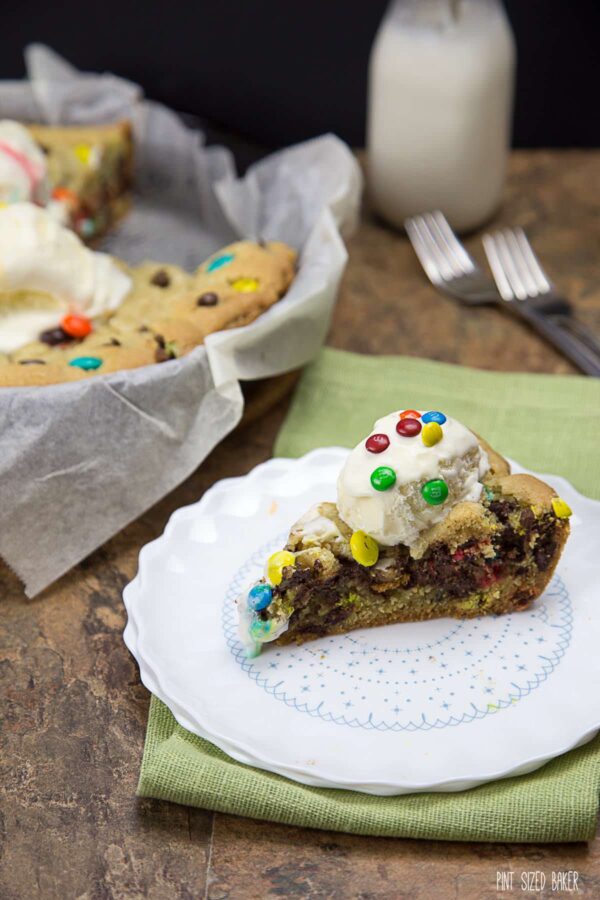 Another great thing about a giant skillet cookie is that the center stays soft and gooey. With all that added chocolate and candy, it's more chocolate than cookie! The edges of the skillet are crisp, but not crunchy and the center is soft. Serve it warm from the oven and skip cooling it for more of a cookie dough experience.
Just look at all that chocolate in there!!
I mean this cookie is PACKED with them! I've added three different kinds of chocolate chips because I love the mix, but you can just use half a bag of semi-sweet morsels if that's all you got.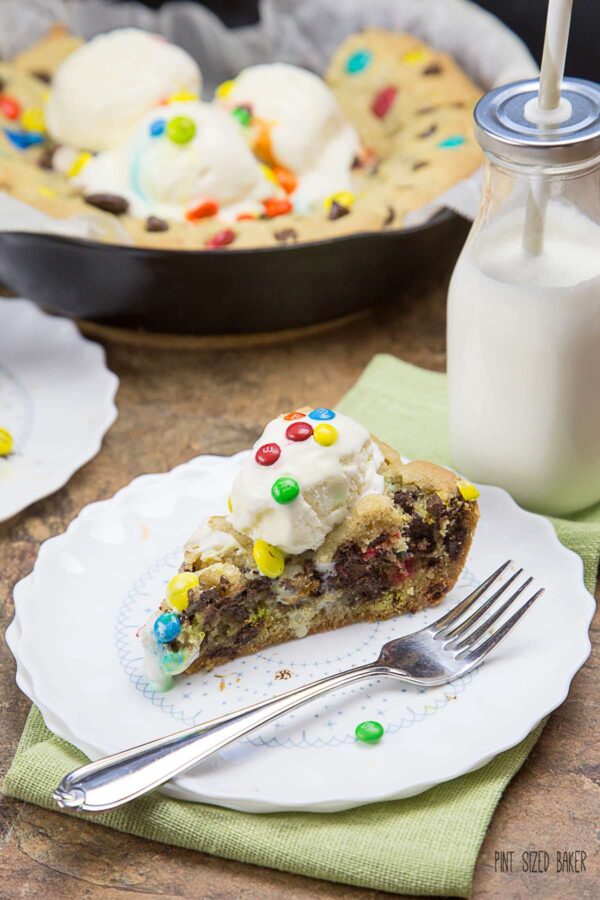 BTW – did you happen to notice the M&M's in the video? They said "Pint Sized Baker" on them! How cute is that??
Funny story about these M&M's – I know you want to read about it….
For my 40th Birthday my husband and I went to New York City for the weekend. We walked around Times Square, saw Wicked on Broadway, went to One World Trade Center, and of course ate some amzing FOOD! While in Times Square, I noticed the M&M shop and just had to check it out. Up to the third floor of all the awesomeness we found the personalizing machine. I got to pick what I wanted printed, then select the assortment of colors, and then pour my bowl of candy into their machine. 90 seconds later, my little cup was filled back up with my design on them.
The nice employees secure the container up with several pieces of tape so that I would not be tempted to eat them on the spot.
Well, that tapped up container stayed that way for nearly a year! A YEAR!! Just sitting and mocking my husband. He was actually getting angry that I didn't eat them.
(FYI – I'm also the kind of girl who gets a pretty candle and then never lights it because then it wouldn't be pretty anymore.)
As I approached my 41st birthday, the mocking got to be too much, so they were sacrificed and devoured in this Giant Chocolate Chip Skillet Cookie!! YUM!
While in the NYC store I also discovered their MEGA M&M's. Have you seen these things?? Talk about big candies! They were bigger than my thumb and I loved every single one of them!
I hope that you get yourself some mega, regular, and mini M&M's and dive first into this dessert. It really was good!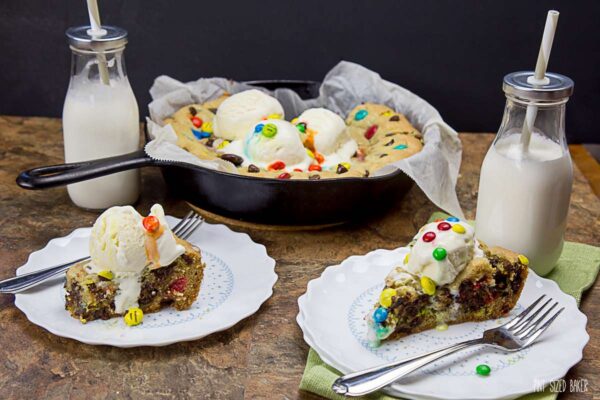 For more great Chocolate Chip Cookie Recipes, check out these: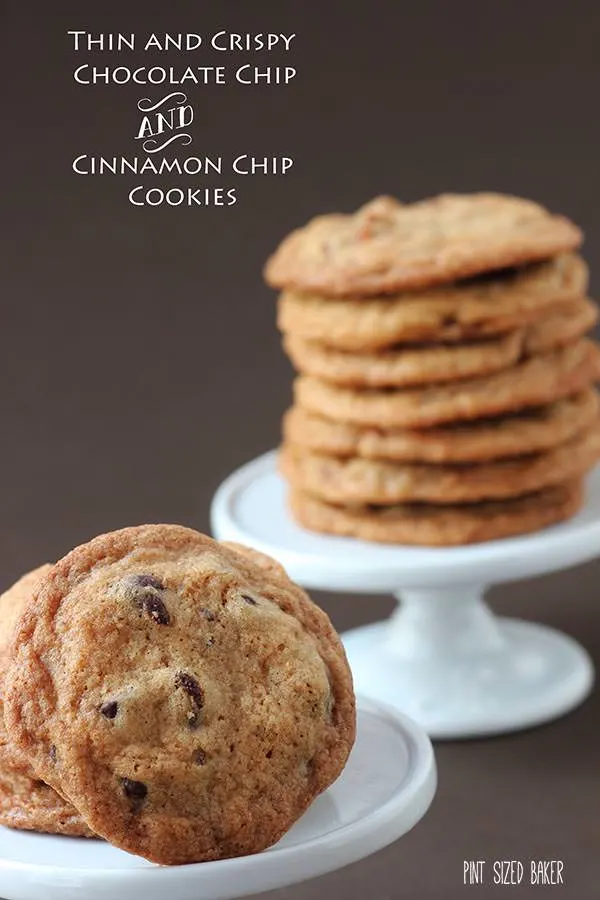 Thin and Crispy Chocolate Chip Cookies
Soft and Chewy Chocolate Chip Cookies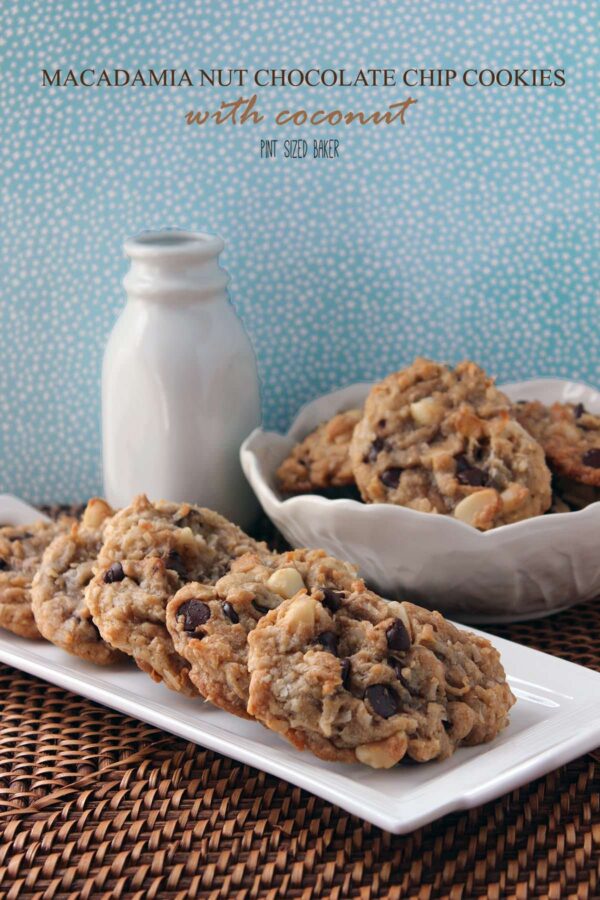 Macadamia Nut Chocolate Chip Cookies with Coconut
Yield: 12
Giant Chocolate Chip Skillet Cookie
Because who doesn't want a giant chocolate chip skillet cookie loaded with M&M's?? This Skillet cookie is just what your weeknight dessert needs to be!
Additional Time
30 minutes
Total Time
1 hour
15 minutes
Ingredients
1 C butter, soften
1 C sugar
1/2 C light brown sugar
3 tsp vanilla
2 eggs
3 C flour
1 tsp baking soda
1/2 tsp salt
1 1/2 C mixed dark chocolate chips, semi-sweet chocolate chips and mini chocolate chips
1 C mixed M&M's - Mega, regular and mini
Instructions
Preheat the oven to 350F and prepare a 10-inch cast iron skillet with parchment paper.
Mix together the butter and sugar until light and fluff. Beat in the vanilla and eggs. Add in the flour, baking soda and salt on low speed. Hand mix in the chocolate chips and the M&M candies.
Press the dough into the prepared cast iron skillet. Bake for 15 minutes then cover with foil and continue baking for 15 minutes more.
Let cool for 30 minutes before slicing. Serve with a scoop of ice cream and a few more mini M&M's for garnish.
Recommended Products
As an Amazon Associate and member of other affiliate programs, I earn from qualifying purchases.
All content 100% human written.Images, text and all other content Copyrighted©Karyn Granrud, Susanne Queck and Wunderlander Verlag LLC, or ©Pro Stock Media via Canva.com. Unlicensed republishing permitted. As an Amazon affiliate, we earn on qualified purchases.