A Perfect Peach Pie recipe for you can make at home. Get all the tips to make a great peach pie and how to avoid a soggy crust.

Perfect Peach Pie
Have you been enjoying peach season? I have been, however, peaches aren't my favorite fruit. I love them in baked goods, but can't stand the fuzzy outside skin. It just gives me the heebie-jeebies. No, sir, I'll take my peaches in something baked! Like peach crumble, peach muffins, and peach cookie bars. Oh my… yes I do like my peach desserts, and I loved this Perfect Peach Pie recipe. It's easy to make and the best part is that there was no messy, soggy crust. The key is to control the amount of peach juice. Check out the recipe below on how to do that.
I loved this scrumptiously perfect peach pie! It's so easy to make. You'll be surprised how easy it really is.
The toughest thing for me was doing the lattice top for the first time. I've had some pie shell flops in the past so I'm always nervous to play with it. However, this was pretty easy if you take your time and work with your  dough when it's not too hard or too soft.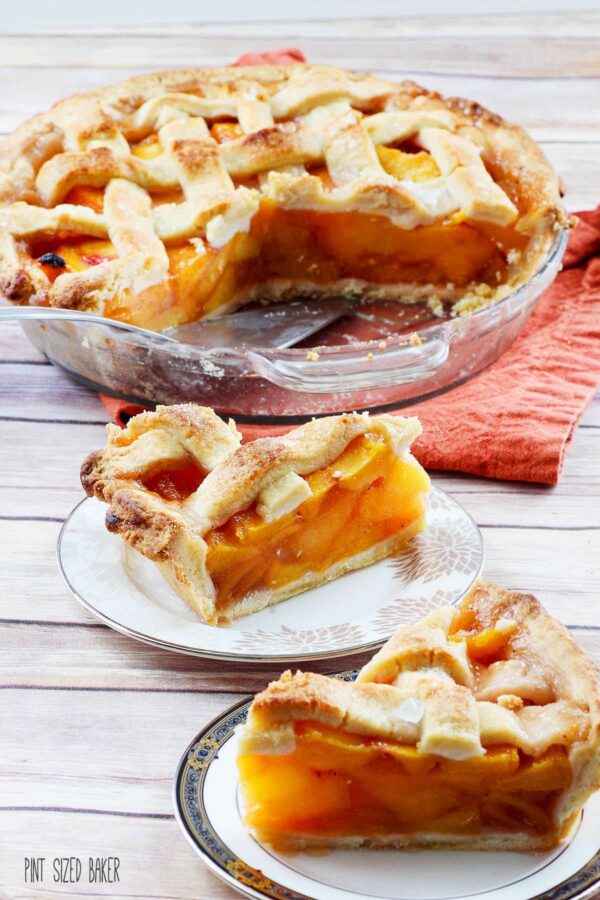 The other tip that I found very useful came from Cooks Illustrated. They found that when baking with juicy fruit, like peaches, it's best to let them macerate for an hour first. Let all of the peach juices run out and then just use a bit to flavor the pie and you won't end up with a soggy pie. Nobody likes a wet crust and a sloppy slice of pie.
It also helps to refrigerate or even freeze your pie to keep all of the juices in place. But, don't toss that Peach Juice! We made some Peach Prosecco Cocktails! Cheers!
Tips to making a great lattice top are HERE.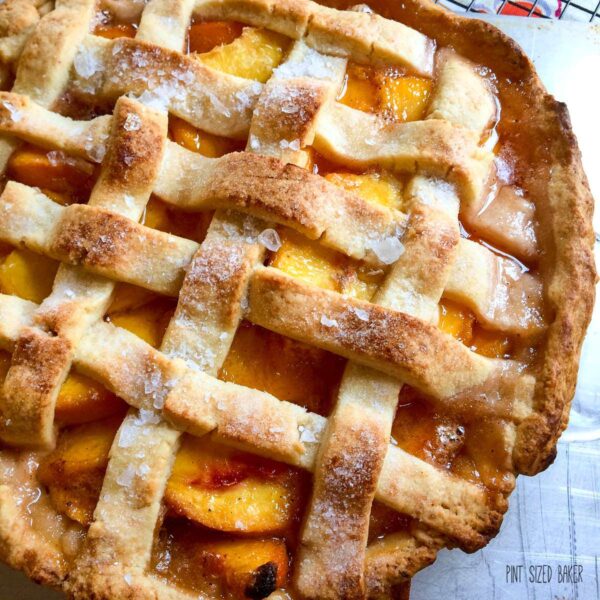 For more homemade pie recipes, check out these