This strawberry birthday cake was a huge hit! A six layer cake with layers of strawberry curd, strawberry simple syrup and strawberry buttercream frosting.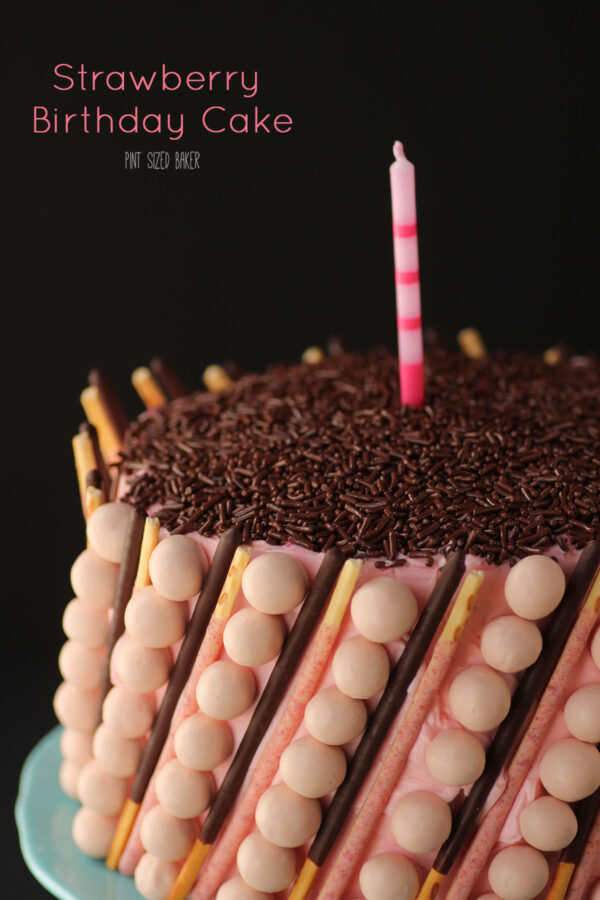 Strawberry Birthday Cake
It's my birthday!
Yep! It's October 31. I'm a little Spook. A Pumpkin. A Witch. All these nicknames that I got from my mother because I was born on Halloween. Do you have a nickname? Do you love it or hate it. There have been a few nicknames over the years that I was not fond of. I have a few nicknames for my daughter. She's my Little Bug. The Bug. Sometimes she's Booger Butt, but that's only when she's been naughty. Anyway, I made this amazing Strawberry Birthday Cake and loved every bite of it – Vanilla Cake with Strawberry Curd filling and Swiss Meringue Buttercream. For fun I decorated it with Strawberry Pocky and Strawberry Malt Balls. WOW!
It was beyond good.
This cake was for ME! My husband was not happy that it wasn't chocolate or peanut butter… Whatever. I'll make him his cake for HIS birthday.
This cake is a dense cake. It is not light and fluffy. It is great for stacked cakes and wedding cakes. Since it is so dense I made a simple syrup to help lighten the cake. I was worried about it getting mushy, so I don't think I used enough.
I've made this cake a few times now and I always like it. I also made it for my daughter's 7th Birthday here.
This recipe is part three in a three part series including Strawberry Curd and Swiss Meringue Buttercream.