The Completed Kitchen Renovation reveal, we wanted to share all the details with you. We've given our kitchen a face lift and are loving the results. Check out how we've spruced up out kitchen to make it more functional for our family.
Completed Kitchen Renovation – The Big Reveal
I am so excited about our kitchen. We started the thinking about this a few years ago, but didn't actually commit to anything until Dec 2016. In March 2017, I shared our Kitchen Renovation Project with you about where the kitchen was and what was no longer working for us. Then in April I wrote about working with Reico in Maryland and how they helped us in designing a new kitchen that would suit my needs and my budget. Today, I'm here to share the final results of this completed kitchen renovation.
We had the kitchen delivered in the end of February 2017 and then had the contractor come in March 1 to get to work. My husband and I were able to remove 90% of the kitchen cabinets, but that last 10% needed someone with electrical skills and could actually take down a wall. Once the contractors got to work, they made quick work of installing the cabinets and new island.
We ran into two snafus along the way.
#1 – the sink base wasn't changed in the order when we changed our minds about the sink. At first we wanted a farmers sink with a big bowl and that classic front overhang. Then I changed my mind when I saw this sink! Two bowl and a built in runoff area. Oh YES!! So the sink base (the cabinet that the sink sits on) needed to now be a 33″ size base and we got a 30″ delivery. There was almost 10 days wait time to get the new base.
#2 – the countertops around the sink and over the dishwasher was unsupported. I don't know how countertops stay up, but I learned a lot about proper support for them, especially when over a a void – like a dishwasher. You see, the countertop can't rest ON the dishwasher. What happens if the dishwasher has to be replaced or if it gets shaky? So, the contractor decided to lay out a 1/4″ plywood to create a surface for the quartz countertop to lay on. This delayed up almost a week to get the countertop guy over to measure everything.
Butcher Block Island
I LOVE the dark walnut butcher block island counter we got. It's stunning! I was worried that it wouldn't match the cherry cabinets, but it works together so good. The contrast of the quarts on the breakfast table and the dark wood just look amazing together. My husband jokes that we have a walnut cutting board for our walnut countertop, but it's so nice that I'm still scared to actually cut on it. It'll be a while before I'm comfortable taking a knife to the very expensive top. Besides, why not use a cutting board? It's easier to clean and deal with a cutting board anyway.
There will be light
Choosing my light fixture was a tough decision. I wanted pendants that hang over the island but the electrician was going to charge per light fixture. We had already decided to add can lights to the kitchen, so the lights over the island are more to be pretty – the earrings of the kitchen. So, we picked a track lighting system with small spotlights and three hanging pendants. While I'm not 100% thrilled with it, it's definitely better than what we had and it looks good in the space.
Also, the windows are now clear to open and close as needed. Every morning it's wonderful to open the drapes and lift the blinds to let the sun in. The windows face east, so that morning sun pours through and puts me in a good mood. I love it!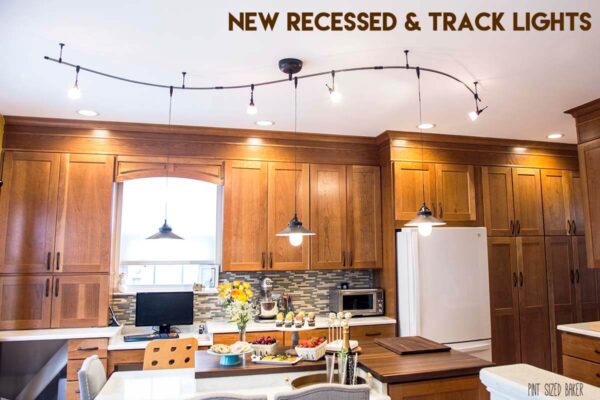 It's the little things that matter
Baking Pan Storage
Little things that make a big difference in the kitchen. Better organization and work functionality are super important. I spend a majority of my time in the kitchen and I needed a better way to store all my stuff. I'm loving the space above my fridge. We put dividers up there to support all my big baking sheets, cooling racks, cupcake tins, and more cutting boards. Previously, this wasa total wasted space that I had a hard time accessing since it was flush with the wall cabinets and did not come out over the fridge.
Kitchen Utensils
Next to my stove are now drawers! Three drawers that make my life so much better. This larger drawer is so much easier to find what I need. I used to have two drawers and it was pretty common to look for a spatula only to have it in the other drawer. My husband and kid never put stuff away in the right drawer. This is fool-proof for them.
Pots and Pans Storage
I am so in love with having DRAWERS to keep my pots and pan in. There used to just be a double door cabinet that had a half shelf and I had such a hard time getting to and putting away my heavy pots. I had to take stuff out to get to the larger stock pots in the back and there was no place for lids, so they floated around all over the place. I got a cute divider from IKEA to stand up the lids and it made this drawer just beautiful!!
Island Organisation
My island was small, cramped, and a mess. There were two drawers on top and a crappy cavity that small appliances got lost in. Seriously, it was bad. I lamented all this frustrations to my designer and she came up with an awesome solution! A double utensil drawer – YES! Two organizers on one drawer. We added a spice drawer so that's handy when cooking and I don't have to carry spices from my pantry to the island. And one of the best improvements is the double trash can that lives INSIDE the island. The trash can was one of the first things you saw when you walked into my old kitchen. I hated it so much…. But this is so much BETTER!!
My Built In Pantry
This was one of my MUST HAVE items. I was not going to budge on a built in pantry. There was lots of discussion on this when we were talking finances and cutting costs. This pantry came with a $4 grand price tag! It was not cheap. There are 8 pull out drawers inside and they are eight feet tall! However, when you look back and compare the built in cabinets to the drywall pantry that we used to have with wire shelving and you'd do the same.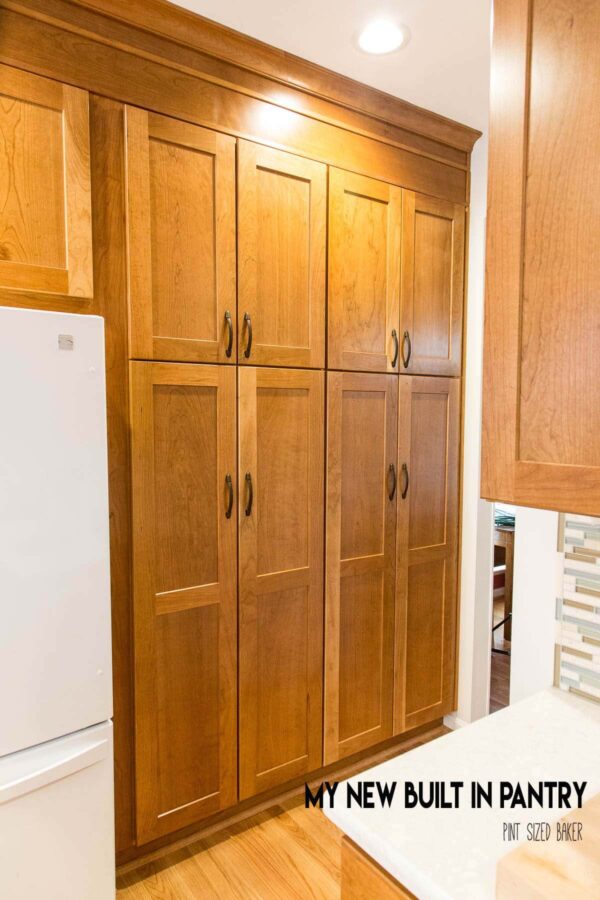 There are 4 long doors and the cabinets are pretty deep. If we just had fixed shelves, I would have cried because I would not be able to reach to the back. We added a recessed light to the area because there was zero light in that small space. I was also able to have to contractor space the drawers so that I had a space for my pressure cooker and second stand mixer. They both used to live on the counter top because they didn't fit anywhere.
The door right next to the fridge is a broom closet. I've got my broom, mop, Swiffer, and cleaning supplies in there. It's so much easier to get to. I also have my aprons hanging up in there. A lot of my aprons had to go… there was just too many, so we kept our favorites and tossed the rest.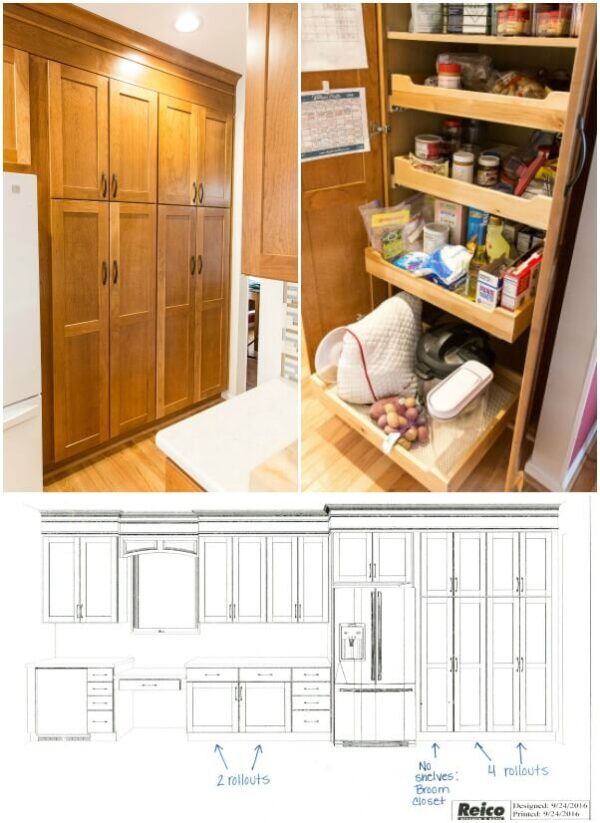 My Backsplash
I had a tough time picking out my backsplash. We did not have a backsplash before, just a 3″ return on the counter that went up the wall. It was just drywall that was painted by the builder. We did nothing with it. I was concerned with all the horizontal lines in the kitchen and didn't want more lines, but I kept coming back to this blue and green glass tile with stone. I looked at so many tiles… so many… And I asked for help numerous times on Instagram Stories from my followers. I had various shapes, sizes, and colors. Circles, arabesque, subway, mosaic, squares, and so many different shades and finishes. UGH! It was too much.
This tile may have been a safe choice, but we really like it. It's neutral enough while still giving us some color. It's easy to clean and maintain. The cost was descent – we got it from Lowes – and it compliments the grey and white in the counters.
I admit, this was NOT cheap. This was a major investment into our house and I'm glad that we did it. I'm so happy every morning when I come downstairs and open the drapes. It's a breath of fresh air! Just check out the before and after collage and see for yourself.
I'd like to thank my next door neighbor, designer and friend, Tristan, and Reico for helping me to navigate my way though this completed kitchen renovation. If you're in the Mid-Atlantic area and looking for a great design company, check them out. They have 30 locations to help you.
Also a big thanks to Henry and Hendra from Maverick Construction Inc. They did all the heavy lifting, pushing, drilling, and with the help of a few swear words along the way, got this kitchen put together.
CHEERS!! Here's to baking in my beautiful kitchen again!
Whew!! I know this is a long post, but I just wanted to share all of the Completed Kitchen Renovations that have happened in the last 6 months. What do you think? Do you like the changes we made? Does this make you want to upgrade some items in your own kitchen? Leave me a comment letting me know what you'd like to change in your kitchen!
Want to read more about my kitchen frustrations of my kitchen that lead to the remodel? Check out Part 1 of the series.
And in Part 2 of my kitchen remodel series, I talked about picking out all the new cabinets and design.